Billboard charting, award winning musicians.
Billboard charting, award winning musicians.
Billboard charting, award winning musicians.
Billboard charting, award winning musicians.
Wakeup Starlight Is Your Premier Band For Hire In Calgary
Wakeup Starlight is a professional band that can add significant value to a large private event in Calgary and Alberta. They have extensive experience in tailoring their performance to suit the occasion and audience, from weddings to corporate galas. With their range of instruments and equipment, they produce a fuller and more dynamic sound, elevating the quality of the entertainment.
Their level of skill and experience in performing is unmatched, with a deep understanding of music theory and technical skills. They also have the ability to read and interact with an audience, making for an engaging and energetic performance that guests will remember for years to come.
In addition, professional audio-visual (AV) services are integral to creating a beautiful and immersive event experience, and Wakeup Starlight has everything covered. They have a team of experienced AV technicians who work in tandem with their performance to create a stunning and engaging event experience. From customized lighting to sound and video production, they provide a seamless and high-quality entertainment experience for guests.
By hiring Wakeup Starlight for your event in Calgary and Alberta, you can rest assured that you are getting the best in the business. Their attention to detail, expertise, and professionalism ensure that your event will be a success, with memories that last a lifetime. So if you're planning a large private event, don't settle for anything less than the best – hire Wakeup Starlight and experience the difference for yourself.
Be wowed. Be blown away. Be dancing on your feet all night long. Be relaxed and comfortable. Wakeup Starlight is your premier live band that will add a splash of excitement, color and stardust to your parties. With a passion for music and a thirst for celebrating, Wakeup Starlight can cater to any event, creating the perfect atmosphere for you and your guests.
For the past 15 years, Wakeup Starlight has wowed audiences at large corporate galas for Fortune 500 companies, wedding receptions, engagement parties, ceremonies, schools, churches, and even house parties, all across Canada. From the bouncing town of Banff to the vivacious city of Vancouver, Wakeup Starlight will travel all over Canada and can play anywhere in the world!
As a winner of the GMA award for "Pop Song of the Year", you'll be hooked in by the passion and the energy of Wakeup Starlight's performances. From popping sounds to get people dancing to smooth beats that make everyone relaxed, Wakeup Starlight has the perfect production set-up to truly transform your party into a memory you will never forget. Next time you're looking for bands for hire in Calgary, be wowed by musical intensity of Wakeup Starlight.
Hire Calgary's Premier Live Band for: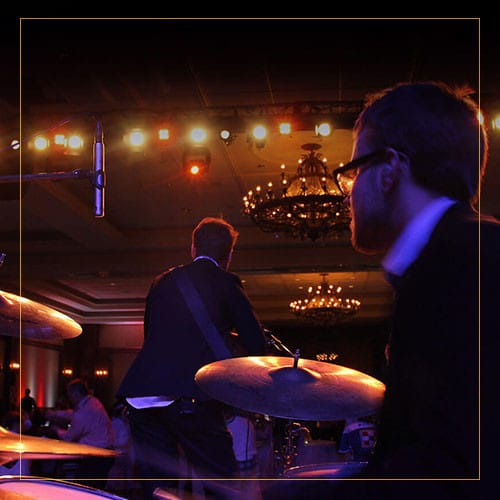 FORTIS CITY OF COLD LAKE VILLAGE OF ROCHESTER MONSANTO GLOVER INTL
VISIONS ELECTRONICS TOWN OF COCHRANE CINEPLEX ODEON RCR RESORTS PURINA
DENTAL CORP TOWN OF VERMILLION BRAGG CREEK SKYSTONE MANY MORE
Here's what some of our clients had to say:
"Wakeup Starlight are a great band that can please any
crowd – a band fit for any occasion!"
"The band was great, they were punctual, polite, and their
performance was perfect for our corporate function."
"Cover songs take on a whole new fresh originality
by the workings of Wakeup Starlight."
Book Your Spot With The Leading Band For Hire In Calgary
Wakeup Starlight has won numerous awards, including a GMA award for "Pop Song of the Year", and has had original songs break into the Billboard Top 40 charts in the USA.
Led by frontman Caleb Cummings, piano player and drums/percussionist Chris Noble, and singer and bassist David Janssen, you will have a trio of dedicated musicians for hire that want nothing more than to play the music you want for your event.
Throughout their 15 years of performing together, Wakeup Starlight has played hundreds of shows in venues across Canada and the United States. With audiences ranging from the single digits to the thousands, no event is too big or too small for Wakeup Starlight.
You'll be getting an award-winning trio performing classic country tunes from Johnny Cash and Elvis Presley, pop songs from the likes of Flo Rida, Katy Perry, and Daft Punk, as well as smooth lounge tracks from George Michael, John Mayer and Enrique Iglesias. All you have to do is ask them for a specific tune, and they will happily play it for you.
If you want to add some sparkle and stardust to your party, it is time to book in Wakeup Starlight. Forget other bands for hire in Calgary, when you can be wowed by the award-winning trio here at Wakeup Starlight! Let's talk about your party today!